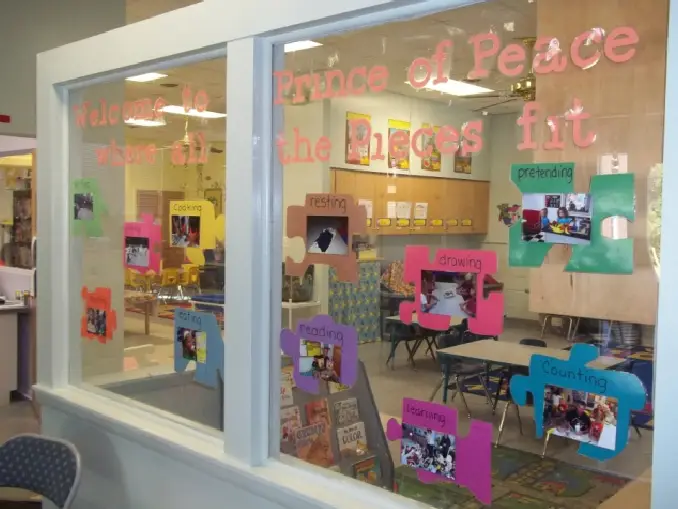 Every child is unique and we believe that success and growth come from encouragement and praise. Our teachers focus on building every child's self esteem and confidence through positive feedback and rewards. We nurture their natural strengths.
POPCLC is an extended mission of the Evangelical Lutheran Church of the Prince of Peace and is dedicated to serving the community in a Christian way.
· We are open year round, Monday - Friday, 6:30 am – 5:45 pm.
· We are CURRENTLY enrolling children ages 2 - 11 yrs
· We offer a before and after care program for the school age child. Baltimore County provides transportation to Red House Run Elementary School, Shady Spring Elementary School and Elmwood Elementary School. We offer full day care for the school age child when school is closed or has partial day.
· We are staffed by professionals in Early Childhood Education
· All Staff are CPR & First Aid certified
· All staff are Credentialed MD Child Care Providers
· We are a published MD EXCELS Participant
· Licensed by MSDE
· We offer a structured program that prepares the young child to enter their formal education program
· Thematic Summer Program including special visitors and field trips
· We serve breakfast, lunch and afternoon snack as a participant in the Child and Adult Care Food Program.
· We accept POC Vouchers
We have proudly served the Rosedale community and surrounding areas for over 40 years. For more information call 410-866-1585.
POPCLC is seeking qualified lead teachers.
Qualified candidates must have
90-hour Certification in ECE
9-hour Communication Course
45-hour Group Leader Certification
Please submit resume to popdaycare@pop.comcastbiz.net or call with any questions.
Michele Nitzel, Director Phone: 410-866-1585 Website: http://www.princeofpeacedaycare.com Address: 8212 Philadelphia Road Baltimore, MD 21237